Writing Advice From Industry Professionals!
Are you looking for some needed inspiration or are you intrigued by how many authors, poets and scriptwriters have learned their craft? Then why not browse some of our writer interviews? From some of the great names in script writing to those with countless books and stories to their name, what could be better to aid you on your own writing journey than to sit down and share a cup of tea with one of the many writers who have shared their expertise and experience with Mighty Pens!
Annie Day Fernie – Debut Children's Author
When I was a little girl my older brother used to write me stories on sheets of Basildon Bond tied together with a bit of string.  His stories along with the endless stories that I read by authors such as Enid Blyton, fascinated me and my love of reading and subsequently writing started then.
I trained as a classical ballet dancer so the very first thing I do is my exercises which wakens me up and really starts the day off for me.  During the time I am exercising I always am thinking of story lines in my head.  That continues throughout the day with whatever I am doing.  I live in a small village and I go for long walks.  My head is always buzzing with ideas.  Potential additions to a story line can come from all sorts of places.
Something that someone mentions, for example a friend mentioned a mouse club for lovers of mice and when I had a good look at the website  gave me the idea for one of the characters in the Pearl series.  Lizzie and I who work together on the Pearl books is also my friend and neighbour so we are always chatting about ideas, illustrations and promoting the books as well as the nitty gritty paperwork that inevitably comes with every occupation.
When the delivery van arrived with our first book.  I called Lizzie  and she came racing across the road having seen the delivery van arrive outside my door.  I ceremoniously opened the first box of books and we just smiled at each other.  It felt like a wonderful achievement.
The long hours, I think. It's challenging to make enough money to live without working very hard. But I enjoy what I do and I'd rather work long hours and be happy.
I think writing can be a bit lonely too. You spend a lot of time working by yourself. It's important to engage with other writers at reading events, festivals and the like. There is plenty of support out there and, in my experience, the writing community is filled with lovely, generous people. You just have to get out there and meet them.
Walk Tall, Walk Bravely.  Okay I stole it from my own book but there are so many out there.  My favourite one is my husband John who said when he heard someone rambling on.  "We need more Pearl Pavlova (it is a short book) and less War and Peace – sorry Tolstoy!
Bernard Bale – A Sample of Our Team Leader's Published Work
We were called "War Babies" but in fact we were "Peace Babies", conceived as the nation celebrated the end of World War Two and with it the end of six years of total stress as Britain and its allies fought off the threat of domination by Nazi Germany and by Imperialist Japan.
There was a boom in babies nationwide but for some of us life was to begin amid the bomb sites of East London where the wounds of conflict still gaped open, revealing charred chair legs, headless toys and fractured fireplaces, the terminal remains of previously happy family houses.
For many Cockney kids those bomb sites were our playgrounds. After death-dealing bombs had dropped from the night sky, health and safety on bomb sites was not an issue. We climbed piles of rubble, we leapt into craters, our football pitch was strewn with brick and metal hazards but since the ball was soft anyway and there were twenty kids to each side, none of that mattered.
Those past war years in the East End were so totally alien to today's synthetic world. The days were not easy, living life with death around every corner never is easy. Nothing, though, could defeat the Cockney Spirit which had just seen off the Luftwaffe. Families were at peace at last, many trying to smile through the tears of bereavement.
Neighbourly camaraderie did not suddenly cease at the sound of the last "all clear", it went on, well into the late 1950s when the heart was finally ripped out of the East End with the rise of tower blocks and new towns and the flattening of the homes that Hitler had failed to demolish. They said it was progress. The Cockneys saw it as a form of ethnic cleansing.
While it lasted the spirits were high in the East End. The people next door were like family and every street was a village. Most lavatories were outside and the Daily Mirror was not just a popular read. An en suite was a bucket in the corner of the bedroom, discreetly tipped down the toilet first thing in the morning.
On the garden fence hung the tin bath or tub, dragged in once a week for the family scrub in the kitchen or possibly in front of the coal fire in the sitting room. Hot water came from a large kettle or enamel bucket (not the same bucket – well, not always) that was at other times filled with cold water to keep the milk bottle cool.
Larders were a wooden cupboard with gauze over a couple of the upper doors to keep the air flowing in and the flies out. Many gardens were still patrolled by chickens, a hang-over from the Dig For Victory days. It was also not unusual to come face to face with the odd goat, a donkey or even a monkey, usually a souvenir of someone's life in the Navy.
Kids played in the streets as well as on the bomb sites and it was a rare pavement that did not have a hopscotch pitch chalked on its flagstones. Equally it was rare to find a wall without a permanent wicket. Football and cricket were played all year round and never was a game called off because of ice on the crease on in the goalmouth. Some areas were even floodlit – well at least while the street light was working. Talking of street lights, most had a bar against which a ladder could be leaned but many of the bars had another use as a kind of hoopla for bicycle tyres!
Television was a rarity but anyone who had one expected to throw open their doors to the whole street on those special days of Cup Finals, the Grand National, the Boat race and especially, of course, the Coronation of 1953.
For the rest of the time the family fun was gathered around the radio, the gramophone or a piano. we loved Family Favourites, Billy Cotton, Archie Andrews, the Ovaltinies, PC49 and Dick Barton – Special Agent. We loved thick bread and butter toasted on the coal fire too. Most of all we loved the sound of laughter and song, the Cockney Spirit in full flow.
We also loved the sound of rattles at Leyton Orient and West Ham, the impromptu community singing of "Oh What a Referee!" if the home side was losing, the crunch of peanut shells – a must-have at football matches in those days.
On special days someone would organise a charabanc trip to the seaside to enjoy the fun of Southend, Canvey Island, Clacton or Jaywick. Those were the playgrounds of the real Cockneys with a stop on the way at the Halfway House for obvious reasons. Southend's Pier and Kursaal were magnets as were the pubs where the fun flowed without the fights.
There were those other special days when the fun fair came to town or the circus bringing with them the delight of the dodgems, the wonder of the freak shows and, under the Big Top of    the circus the thrills and spills of the sawdust ring with lives at stake both in the air on the trapeze and on the ground surrounded by "man-eating" lions.
The East Enders also loved their markets at Hackney, Walthamstow, Ridley Road, the Baker's Arms and, of course, the massive Sunday market at    Brick Lane. Petticoat Lane reached out for visitors to the capital but Brick Lane was the place for East Londoners. There was no particular order to "the lane", just a melee of stalls and people – and what stalls they were!
You could rummage through old clothes, misplaced cutlery, ornaments, books, you name it. Other stalls had new goods, auctions of dinners services, tools and rugs, cheap suits, for coats which smelled of cat, cough sweets, biscuits, tropical fish, parrots and puppies. Down Brick Lane you could buy the same "homing pigeon" every week!
Sundays also meant many hundreds of people descending upon Hackney Marshes for a game of football or indeed it also meant a visit to the pub to buy some winkles, cockles or shrimps and prawns from the stall outside. There was always a stall outside the local pub on a Sunday.
Other days of the week we enjoyed our fish and chips, saveloys and pease pudding and of course, our stewed eels or pie and mash. We managed a roast most Sundays but it was almost always beef which was much cheaper than chicken in those days.
Shopping was a  daily event.
There were no supermarkets then but many shops that might be unrecognisable today – butchers with sawdust on the floor, grocers who had tea in chests, biscuits in    barrels and butter beans in sacks. Sainsbury's had an army of shop assistants cutting your cheese or your butter to size while you watched or perhaps cutting off the number of sausages you wanted from coils that were piled like mountains on the marble counters.
The mobile library was a bloke pushing a handcart laden with books, the milkman and the baker brought horses to your doorstep as did the coal merchant. The rag and bone man would give you a balloon, a goldfish or a couple of pennies in exchange for your scrap goods.
All too soon Mondays came round and it was back to work or school. The factory gates swung wide open to admit the army of workers, men in boiler suits, women in turbans. They chatted, they laughed – yes, they laughed going into work, at work and when they came out of work. Perhaps Workers' Playtime on the radio helped but probably it was the spirit that remained from the conflict years that kept everyone going. Anyway, Monday meant that it would soon be Friday again and pay day when everyone received a little brown envelope with their wages written on the front and cash inside. Remember cash?
Meanwhile the kids were at school – 43 in a class and no teaching assistant. We had a slate and chalk to start with before progressing to pen and ink. Times tables were as vital as learning to speak and the playground was the place we swapped our cigarette card collections, played football while tripping over the girls' communal skipping rope or made death-defying slides during the winter. The smell of cabbage pervaded every corridor as school dinners were prepared – even if there was no cabbage being cooked!
There was a doctor on the corner of every block of streets and a place in the waiting room for anyone who could get there. You took your turn and saw your doctor. If you couldn't get to his surgery he would come out to see you. Nobody made appointments and your doctor knew you by your Christian name. He was, after all, the family doctor. That just about summed up the life of the Cockney in those post war years, a giant family with occasional spats but a great sense of belonging.
At school, at work, at play or in times of stress – in the street, the factory or the classroom there was a special kind of unity, a special spirit – the Cockney Spirit.
And all that other Cockney talk.
I miss the tin bath that hung on the wall
The mangle, the washboard, the boiler and all.
I miss the cafe on the corner of our street
Where factory workers had two veg and meat.
I miss the little shop with soap, sweets and a bun
And the cat curled in the window enjoying the sun.
I miss the paddling when the road was in flood
After drains blocked in rainfall turning dust to mud.
I miss the old man who walked past each day
And pretended to shoot me with his pipe made of clay.
I miss playing football with a can or a stone
And the A and B buttons in the box with a phone.
I miss the policeman who walked on the beat
And let me wear his helmet – just for a treat.
I miss the heartbeat of people who honestly cared
And their loves, lives and losses in which we all shared.
I miss all those horses that delivered our milk
And our bread and Corona and more of the ilk.
I miss the old school where we used chalk and slates
And the ragged-arsed kids I called my mates.
I miss the girls too, yes even they played a part
As one pony tail swish could capture your heart.
I miss real East Enders and their great sense of play
And coach trips to Southend – just for the day.
I miss bags of winkles on sale at the pub
And jellied eels too at a tanner a tub.
I miss the rag and bone man whose shout was unique
And gave you a balloon for the clothes you did sneak.
I miss the small fun fair that came from afar
And the times I won a goldfish swimming round in a jar.
I miss the old telly with a screen nine-inch square
And my Dad's hidden skill when it needed repair.
I miss his great talents that I could never acquire
Except for that great toast he cooked on the fire.
I miss Mum's roast dinners, her spuds were a dream
And if the man on a trike came, we had some ice cream.
I miss too my sister who banged my head on the wall
Though I never deserved it, no honest, never at all.
I miss the old toilet which was out in the yard
With squares of Daily Mirror for us to discard.
I miss the zinc gauze larder made to keep out the flies
And the milk in a bucket that Mum won as a prize.
I miss old East London where they got Brahms and Liszt
While their kids sat on the pub step with pop and some crisps.
I miss their happy voices, have they really gone forever?
No, the spirit of the Cockneys, that won't go, no, never.
Christopher Fielden – Award Winning Author, Blogger & Writing Competition Guru
When I was at school, I wanted to be a musician and was fortunate enough to do that fulltime for 15 years. I still play in three bands (Airbus, Little Villains and Three Day Week – you can learn more about my music projects here) and regularly tour (well, we did before the pandemic).
When music became a part-time concern, around 2002, I did a variety of jobs, eventually working in digital marketing for about seven years. I was Operations Director for a digital agency, which gave me a great foundation for running a blog / website. I started writing during that time too, finding an affinity with the short story form.
So, I haven't always dreamed of being a writer, but I have always been interested in writing. I was fortunate to have an encouraging English teacher and have written stories since I was about 12 years old I guess. Therefore, when music stopped being a fulltime concern, writing fiction was a natural progression.
Most days, I get up about 8am. I work from about 8.30am through 'til lunch time. I take half an hour break to eat and feed my tortoise, Pebble. I work again until about 5pm. Then I do some exercise and eat. I start work again at about 6/6.30pm and finish around 10/10.30pm. Then I relax for a couple of hours before going to bed and then start all over again.
It's not a particularly healthy routine at the moment… working long hours seven days a week is draining. But work does include writing fiction and creating music, so it's pretty varied. I do try and get out for an hour or two when possible, to see friends as well. So it's not all work, but I do put in very long hours.
Ideally, I would like to get my hours down below 60 a week, so I can have a day off. That's what I'm currently working towards.
Signing my publishing deal with Victorina Press and publishing my short story collection Book of the Bloodless Volume 1: Alternative Afterlives have to sit at the top of the pile. The book was awarded the title of 'Award-Winning Finalist in the Fiction: Short Story category of the 2019 International Book Awards', sponsored by American Book Fest, which I'm very proud of.
I'm also proud of my website as it helps so many other writers. People from all over the world use it to find short story publishing opportunities via my competition listings and to learn via all the other free resources I provide. Over the years, it's become increasing popular with schools, universities and writing course providers.
The flash fiction writing challenges I run have also been very successful. At the time of writing, they have resulted in:
2,662 stories by 1,671 authors being published on my website
1,500 stories by 803 authors being published in 15 anthologies
1,704 books being sold
£5,533.19 being raised for charity
It's a great feeling to have developed a writing community that has been so supportive and successful.
The long hours, I think. It's challenging to make enough money to live without working very hard. But I enjoy what I do and I'd rather work long hours and be happy.
I think writing can be a bit lonely too. You spend a lot of time working by yourself. It's important to engage with other writers at reading events, festivals and the like. There is plenty of support out there and, in my experience, the writing community is filled with lovely, generous people. You just have to get out there and meet them.
I've always been drawn to writing humorous fantasy, often with dark undertones and horrific elements. It probably stems from my love of authors like Terry Pratchett, Stephen King, Ursula K. Le Guin, David Gemmell, Roald Dahl, Philip K. Dick… the list could easily become epic, so I shall stop there.
As for devices, I think it's really important to decide whose story you're telling and why their story is worth telling. If you understand that before you start to write, it makes finishing the story a lot easier.
When I first started developing my website, I planned to use it to showcase my writing. After the site was launched, it quickly became apparent that no one was finding the site and reading my stories because no one had heard of me. As I mentioned earlier, I have a background in digital marketing, so I decided to use my experience to think of ways to develop the website and grow my audience.
I had a large spreadsheet of publishing opportunities that I'd complied while researching publications and competitions to submit my stories to. I thought other writers might find that useful, so I built a list of short story competitions on my website.
I do like to read… but as I do so much of that running my website and administering the To Hull And Back humorous short story competition, I rarely have time to read for pleasure. That is something I need to address… I have a stack of books I want to get through.
I'm also a Clash of Clans addict. Sad but true… It's something you can dip in and out of around work, so I enjoy it.
I love riding motorbikes. The sense of freedom it gives you is relaxing. And watching movies – I gain a lot of inspiration from films.
And I like to spend time with family and friends, having a chat and eating cake. Can eating cake be regarded as a hobby? I do it a lot, so I reckon it qualifies
The wise words of Terry Pratchett: "You can't build a plot out of jokes. You need tragic relief. And you need to let people know that when a lot of frightened people are running around with edged weaponry, there are deaths. Stupid deaths, usually. I'm not writing 'The A-Team' – if there's a fight going on, people will get hurt. Not letting this happen would be a betrayal."
Marc Rosenberg – Award Winning Scriptwriter For Television and Film
Renowned for such movies as Elevator, Australia and December Boys, award winning scriptwriter Marc Rosenberg has been the writer behind some of the greatest and most popular films of recent years. Now trying his hand at writing novels as well as sharing his experience with the next generation of scriptwriters at Bond University in America, Marc has also worked with famous stars of the screen from the likes of Daniel Radcliffe to Jeremy Irons. Why not check out his book The Screen Play Tree here?
The fear of paying the rent! It brought it home that you had to play to your best qualities. There's no point dividing your attention, it's better not to be good at anything else. For instance if you are an electrician or plumber and that's paying the bills, you lose the hunger to have to write. It's exciting of course but there is a huge fear involved. You don't appreciate all the mistakes you've made until you hit send on your manuscript but it's exciting. You are gambling on your own ability and pushing yourself. You're always taking a chance and always changing of course and learning. It's like having kids, you nurture but there comes a point you have to let them go.
For instance with Elevator, I felt very responsible. I had worked on many other films and on different scripts when once the manuscript has been submitted, the process has very much moved on. There the matter of finding the director and the cast and even how the scenes are brought to life through personal interpretation. With Elevator, my role continued with finding the director and actors and actresses and having much more of an input which was obviously more control and opportunity to make it really mine but there's also that fear element because the responsibility is, in a much larger way, on you!
At base level, there's a yes and no answer. It can be often very formulaic, you start with a gut feeling, an emotion, a moment, even shower thoughts, trying to make all that, in a sense, tangible. You know you have it when you get that feeling of rightness, that feeling that yes, that's exactly what I wanted to say and it certainly gives tremendous pleasure. Of course sometimes you have times when at night you'll be thinking that something is a great idea, character or line but then in the morning you were wondering what you were thinking!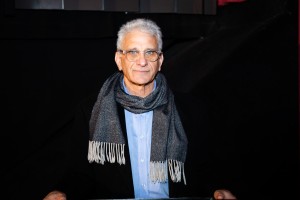 It's just describing what is in your head. Sometimes it's like reverse engineering, you'll have a scene in your head that first inspires the idea and then you have to work backwards from that point. Other times you have a complete idea in your head whilst still others you literally only have flashes. Then there's pay offs and supporting scenes. A lot of the time you just break the movie down into bite sizes. There's no set rules. Sometimes it's just finding the premise and then the message that you want the audience to leave with and then making that accessible through the film.
I have so many ideas that are just shelved at the moment and so it's been interesting and exciting to just try writing stories. There are some films that I know are unlikely to make it to the screen because some of the locations needed or the work involved just doesn't make it viable because it would just be too expensive and not economical so it's been an incredible release and fun to be able to write novels and books. It's fun to be able to talk about what is actually in your head. There's a freedom in wanting it to rain and not having to worry about a machine or the weather to create that. Some principles are the same, there's dialogue, there's filtering scenes and the characters except they don't usually talk in the present tense!
I never feel that work is done, that prevents thinking outside of the box, the pressure is then no longer there, you must always keep an open door that keeps things open.  I do think about a legacy. I love helping a student reach their potential, there's always a few with real talent and some will just walk through brick walls and those whose confidence will get them there quicker. When I was a student, I was close to flunking out and was very much the class clown until one day a teacher came to me and said that you know you are a good writer and that really helped me. I want to be able to make that impression on just one person. There's a nugget in everyone. Some need permission to express themselves.
Movie making is not about turning on a camera, we still enjoy the old films, not because of the camera angles, but because of the amazing stories – Marc Rosenberg